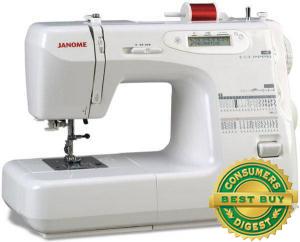 This
was my birthday present from my mom and dad and I. Love. It.
I learned to sew on my mom's Bernina, which unbeknownst to me, spoiled me a bit. Then I inherited my gramma's Singer which was tolerable at best. But I also inherited her serger, so I survived the sewing machine when I had to have it and used the serger as much as possible. And while I really enjoy sewing, having a strong dislike for my sewing machine made me avoid it like the plague.
Thankfully, my gramma's sewing machine recently bit the dust. I'm only saying thankfully because that meant I could request or buy a new one guilt free! :) I needed it quickly, because I had a nephew on the way who needed this blanket and some burp rags!
So I (shamelessly) asked my mom if an offer from last November was still open. Being a (much more skilled) seamstress herself, she and my dad were happy to indulge me! I had
this one
ordered by that afternoon. I had never heard of Janome, but found out they are actually made by Bernina!
I have to say, it is a great machine. It is heavy enough to not bounce all over the table, stitches tightly, has quite a few decorative stitches, has a bobbin that works!, is easy to work with and was a great price. I've made several curtains, a set of burp rags and a blanket in the two months since I got it and I have not one complaint.
Having 2 completed curtain projects behind me without a hitch definitely fulfills the simple pleasure category for the week!
Thanks, Mom and Dad!!