This is the Five in a Row book we did this past week. I think it was one of our favorites; it was one of mine anyway. We read many books about the Inuit (an Eskimo people group) people and focused on the Canadian arctic.
We
looked at the Inuit language
and figured out (as best I could) what Jacob's name would look like. We also found a website where we
listened to a young boy
say some words in the Inuit language.
We also learned about which animals live in the Canadian Arctic and how they relate to each other (nice way of writing "which ones eat each other"). Jacob said, "Mom, isn't that just called the food chain?"
Here is a mural Jacob did this week too. (It's 5 feet x 2 feet!) We printed the pictures from
Jan Brett's website
, then Jacob colored them the appropriate colors. We also took this opportunity to learn about shading and perspective. Then Jacob glued them all where he thought they should go.
One of the fun things about this book is that several of the illustrations contain hidden animals. So Jacob and I went to a local restaurant (edited to add: Captain's Galley for you local folks) and looked at the mural in their entryway that also contained hidden animals. We found them all! (And yes, I think the hostesses and nearby customers thought I was quite strange taking pictures of the mural and Jacob. I'm sure they thought I was really wierd when we left without eating!) This was also a great time to look at this artist's perspective and shading since I don't see us in an art museum anytime soon. We tried that once...
The story line of
Very Last First Time
is a young Inuit girl going under the ice to look for mussels for the first time without her mother. At the climax of the story, her candles burn out and she can't find her way back to the hole in the ice, but the tide is coming in. Jacob could not understand why she would be afraid, so we finally made this to demonstrate that when the tide came in, she'd either drown or freeze to death in the water. Pretty grim, but he finally got it.
And at the end of the book, Eva finds the hole in the ice and dances in the moon's rays shining through it. Right as we read that we glanced outside and saw this in the clouds! It was the only hole in the clouds thickly covering the entire sky, and it was perfect just for us!
And Jacob has been using the How To Draw books lately. (This one actually came in a recent magazine.) He's really enjoying these and building his drawing confidence this way. And yes, polar bears actually appear a very light yellow. Their hair is actually hollow... never knew that!
This was just a sweet book we read along this week.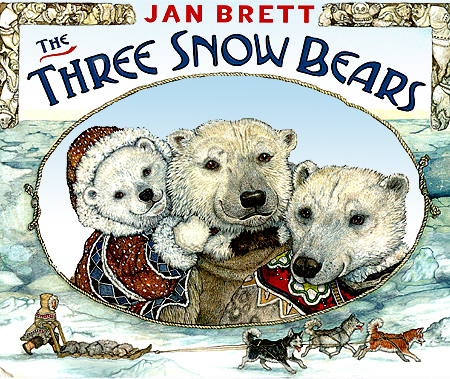 And another great book that Mattie received as a gift for Christmas! This is a new book of Jan Brett's. Jan and her husband actually visited a Canadian Inuit village that became the inspiration to retell and illustrate this book. Read about her trip
here
!